Free Video Editing & Visual Effects Software Download
HitFilm Express is free video editing software with professional-grade VFX tools and everything you need to make awesome content, films or gaming videos. Perfect for beginners, film students, gamers, YouTubers, or any creative without a budget.
All of this and more, for free.
Professional editing tools
Biggest free VFX toolkit on the market
4K exports, professional formats, no watermarks
Motion tracking and animation tools
Intuitive interface with a fast learning curve
Over 100 hours of free tutorials and masterclasses
I love HitFilm Express! It has so many great tools and tutorials. I've recommended it to all of my friends with an interest in editing and filmmaking.
HitFilm was a divining rod for what I wanted to do with my life.
Clicking onto the FXhome website was one of the best decisions I ever made in my life.
Professional editing tools
HitFilm Express comes with all of the industry editing tools you know and love in an easy-to-use interface. Whether you're creating snappy gaming montages or cinematic edits, GPU acceleration gets the best performance out of your hardware so you only spend time on the important stuff.
Largest free VFX toolkit available
HitFilm Express comes with the largest and most powerful free effects library available on the market. With HitFilm Express, you have access to industry-grade color adjustments, keying effects, lens flares, lightswords and so much more, as well as a library of 'Quick 3D' effects for adding realistic simulations to your productions.
420+ total effects and presets*
* some effects require add-on purchase.
4K exports, no watermarks
We believe every creative should be able to show off their projects in professional formats. That's why HitFilm Express includes free 4K export in industry file formats. No compromises, no watermarks – just great software.
Motion tracking and animation tools
Create professional-looking motion graphics, track them onto moving objects, and use HitFilm's pre-built Behavior effects to create organic and visually-engaging animations in just a few clicks. HitFilm Express is built with creators in mind – all the bells and whistles, none of the fuss.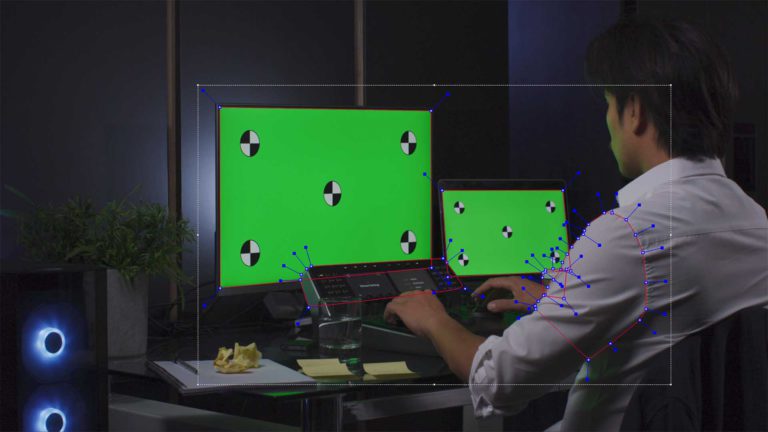 Intuitive interface with a fast learning curve
Didn't know FXhome/HitFilm was so Blender-friendly!
I'm new to video editing and find the video tutorials very helpful.
HitFilm has an outstanding community, and you'll find a ton of official HitFilm tutorials from FXhome to help you grow as a VFX artist.
You don't have to go it alone. We've created over 100 hours of free videos on everything from VFX tutorials to motion graphics techniques to filmmaking tips – all available for free over on the FXhome YouTube channel. Mastering the art of visual content production has never been easier!
Want to get stuck into a project? Our free masterclass courses take you step-by-step through various projects like Star Wars fan films, gaming video creation, digital scene extensions and more. The best bit is, you can get started right now!
Start our latest masterclass for free:
Use CamTrackAR to enhance your projects with 3D camera tracking, or work with immersive virtual production to transport yourself anywhere in the universe
Apple: macOS 11.0 Big Sur, macOS 10.15 Catalina or macOS 10.14 Mojave.
Windows: Microsoft Windows 10 (64-bit).
Internet connection: Required for online activation
Processor: 6th Generation Intel® Core™ i5 (2015), AMD Ryzen 5 (2017)
RAM: 8GB (16GB Recommended)
Graphics card (minimum):

2 GB of video memory (4GB or more and NVIDIA or AMD card required for 8K UHD)
NVIDIA GeForce GTX 10 series (2016)
AMD Radeon RX 400 series (2016)
Intel HD Graphics 620 (2016)

Graphics card (recommended):




8 GB of dedicated video memory
NVIDIA GeForce GTX 20 series (2018)
AMD Radeon RX 5000 series (2019)
MP4 H.264 Import & Export
AVCHD Import
QuickTime Import (QuickTime install required on Windows)
AVI, M2T, M2TS, MTS, MXF (DVCPro HD), DV, HDV, WMV Video Import
HitFilm Pro also supports OpenEXR, Apple ProRes (Mac), GoPro CineForm (Win)
QuickTime (.mov) is supported by default on macOS. Windows QuickTime files are supported by HitFilm as long as QuickTime is installed.
Install the latest version of QuickTime from Apple. Don't forget to restart after installing or updating QuickTime.
We have hundreds of free tutorials on our YouTube channel which cover all kinds of subjects and effects.
Professional editing, compositing & VFX software all rolled into one. Includes a huge toolkit of 875+ VFX & presets, advanced 3D camera tracking, world-class text, chroma key, color grading tools and much more. For editors, visual effects and motion graphics artists.
Build stunning photo composites or digital artwork with flexible layers, over 75 professional filters and effects, and no fear of baked-in changes. Containing a custom RAW engine and the industry's most intuitive chroma key for tackling green screen. Expand your creative possibilities and save time doing it.
Turn your editor into a VFX powerhouse. This huge toolkit gives you 190 plugins to fire up your software of choice. Experiment with over 565 visual effects, presets and the industry's best suite of 360° filters and titling tools.