CamTrackAR v2.0 for iOS Enables Anyone – from Novices to VFX Supervisors – to Create Virtual Productions on an iPhone or iPad; Import and Pre-Viz 3D Models in Real-Time. CamTrackAR Featured at Apple Spring Loaded Event in Cupertino.
Learn how to take your CamTrackAR tracked footage from your iOS* device and composite it into any scene you can imagine inside HitFilm. The tracking data mirrors the real-world camera movement in your CGI environment, and allows you to add 3D models at the same time!
CamTrackAR is a groundbreaking iOS app that can capture video and 3D tracking data simultaneously using Apple's AR technology, and the most recent update brings powerful new features for on-set previsualization, including live Chroma Key and real-time 3D model import.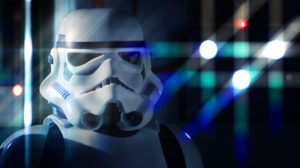 Learn how to use HitFilm's Light Streaks effect to bring your scenes to life! This fully customizable effect gives you everything you need to create realistic, cinematic light rays – perfect for creating retro-inspired motion graphics and adding some flair to your 3D models.
Learn how to create cinematic lens flares from scratch using the Custom Light Flares effect inside HitFilm Pro. With over 60 presets to choose from, and fully customizable settings, you'll always be able to add the flair your footage deserves.
Finding inspiration for a short film can be a challenge, but there are some helpful techniques to help beginners get started.